The Super Nintendo Entertainment System (SNES) was an iconic video game console with many popular titles that still hold true to our hearts. With nearly 1,800 games released, it's easy to see why some got lost in the shuffle and didn't get the primetime attention from gamers they deserved. This is why we need to point out the best SNES hidden gems.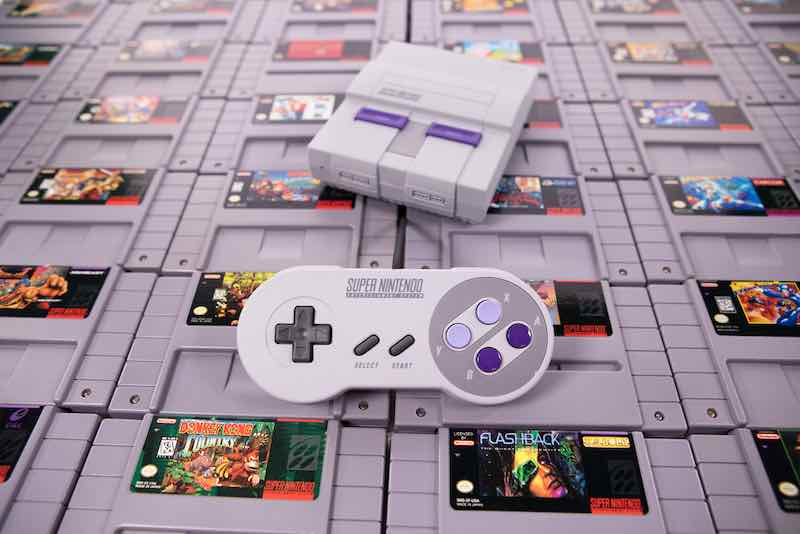 Many of the following SNES hidden gems in this list resulted from ineffective marketing or being overshadowed by the Nintendo classics. When we think of the SNES games, it's easy to think of Mario or Donkey Kong, but the following titles are well worth your time.
Here Are The 10 Best SNES Hidden Gems You May Have Missed:
10. Bust-A-Move
Originally known as "Puzzle Bobble" outside the U.S., Bust-A-Move for the SNES went relatively unnoticed on the console after its popularity across arcades. Developed by Taito, Bust-A-Move is an addictive game with a simple yet challenging task.
All you need to do is match three colored bubbles to "pop" them, but you'll find the most difficult part is aiming the correct position to get the most accurate shot possible. Although the game has straightforward gameplay, you'll find it goes deep with the single-player mode with demanding levels that keep you coming back for another try. The multi-player mode is satisfying as well, which makes for hours of interactive fun. 
9. Plok
Second on our list of SNES hidden gems is Plok. Plok is another gem that you may never heard about before, which predates a popular hit, Rayman. The game was not as refined as Super Mario, but it has an exciting gameplay, vibrant graphics, and superior music.
The story features a hero named Plok, whose goal was to rid his island from pesky fleas. The game is unique because he uses his limbs to make his attack. Although a challenging game, it has memorable characters, intense boss battles, and easy to use controls. The replay meter is high on this one!
8. Mighty Morphin Power Rangers
The Mighty Morphin Power Rangers was a memorable TV classic series for kids, and its adaptation on the SNES featured some solid gameplay. Simple "beat-em up" style stages, along with an entertaining soundtrack, made this game worth your time.
There is plenty of side-scrolling action across seven different stages. Enthusiasts will remember selecting one of the five major characters based on color(Jason-Red, Zack-Black, Billy-Blue, Trini-Yellow, and Kimberly-Pink). Morphing into a power ranger reminds you of those superpowers you've never had, and as the power ranger, you attack with their signature weapon and have special move abilities.
7. Sunset Riders
Get ready to saddle up for an adventure back in time to the American Old West. Sunset Riders was another arcade classic that got lost in the wings with its release to the SNES in 1993. It's a side-scrolling, action-packed shooter that keeps you on your toes the entire time.
You'll choose the role of one of four bounty hunters who need to dispose of the wanted outlaws. Each stage begins with you knowing the outlaw you'll face as the boss battle at the end of the stage. The weapon choices differ depending on whom you choose (Steve and Billy have revolvers, Bob a rife, and Cormano wields a double-barrel shotgun).
There are eight exciting stages to play through, with each passing one increasing in difficulty. You have the opportunity to get power-ups, play bonus games, and even restart on a more challenging setting if you defeat the game. Of course, who can forget the classic "yah-hoooo" as you pick one player or two players to start the game?
6. Zombies Ate My Neighbors
You have to wonder if the survival horror genre got its start with the release of Zombies Ate My Neighbors in 1993. You have to include this on a hidden gem list because of the graphics, added humor, and an unexpected deep story mode.
You'll pick between two main characters, either Zeke or Julie, (or you can play as both in multiplayer mode). One of the most satisfying aspects of the game is the sheer variety of monsters you'll face, whether it's a blood-sucking vampire or a creepy evil doll.
There's also a unique and exciting element of the neighbors you rescue, whether it's a teacher, a small baby, or even the cheerleader next door. This is the game that's perfect for a weekend night when you're looking for quality entertainment. It has 48 stages and some more bonus levels along the way, along with chances to power up your weapons to battle your enemies.
5. Kirby's Dream Course
It's hard to believe that anything Kirby could be considered one of the SNES hidden gems. You can't leave Kirby's Dream Course off this list because it takes a whole new spin on a golf game- Kirby is the golf ball!  Kirby's arch rival, King Dedede, has stolen all the stars of the night sky, and you must return them!
You'll get the chance to play eight different and exciting courses, where players must master the speed and control of Kirby to hit his enemies. As a true combination of sports and RPG, Kirby gains the powers of the enemies he defeats to get complete the next level.
Once you defeat the final enemy, you'll play the role of an expert golfer that Kirby must go into to the hole beat the stage. It's also available as a two-player option where you compete against your rival to see who can get into the hole first. Overall, the game has an adorable and long-lasting element that keeps you coming back for more.
4. Pilotwings
You probably don't think much about a flight simulation game when it comes to an underrated game on the SNES, but Pilotwings excelled with its launch in 1990. It was one of the first of its kind to feature 3D gameplay, an exciting element that added a real-life aspect.
You take the role of an amateur in training to earn your "wings" through different gameplay modes. You could learn how to fly a plane, go hang-gliding, and even operate on the edge of your seat mission with a helicopter attack stage.
While it can be hard to appreciate the 3D graphics of Pilotwings, you'll see that the SNES 16-bit console was pushed to the max on this one. While it's not a game for the faint of heart, your due diligence will be well rewarded once you master the controls and become an expert in the air.
3. Final Fantasy VI
When most people think of the Final Fantasy series, they immediately think about Final Fantasy VII on the Playstation One, which is primarily why Final Fantasy VI on the SNES can be forgotten about. It's interesting to note that this was the last-released 16-bit game of the series, and there wouldn't be another for a while.
True fans will remember the incredible cast, which is by far the largest selection of any game in the series to date. It features hours of memorable gameplay, with intricate dungeons to explore, challenging boss battles, and special missions to accomplish.
The familiar turned-based system of RPG was used, and characters had different special attacks they could utilize, along with some great magic spells. While it can undoubtedly be underappreciated with the jump to 3-D games with the seventh installment, this game is an absolute classic that is masterfully assembled with just a couple of megabytes.
2. Batman Returns
It would be hard to leave a Batman game off this list sheerly because of the non-stop fun of this memorable release.  Konami was master of the side-scrolling fighting games in the 90s, and Batman Returns was no expectation.
The Ninja Turtles and Simpsons games had much success with arcade versions with similar gameplay. After the release of the movie in 1992, now it was Batman's turn to take the plunge with a beat-em-up SNES classic. One of the best aspects of the game is the ease of controls, mashing buttons to dispose of your enemies and the perfectly timed sound effects that go along.
As Batman, you'll have access to different weapons throughout the game, along with some signature moves. It does tie in quite nicely with the movie throughout the game as you make your way through the seven different scenes, ultimately destroying the duck vehicle and claiming victory over the Penguin. The gameplay style with side-scrolling fighting was popular on the SNES during this time, but you can't forget to include this as part of the collection.
1. Super Smash TV
Last but not least of the SNES hidden gems is Super Smash TV. Super Smash TV should be included on this list because of the raw entertainment value the game had. It was featured as a twin-stick shooter in the arcades, and although the console couldn't fully compete, it's still fun and addictive. The game allows you to play by yourself or with a buddy through rapid gameplay with an onslaught of enemies to defeat. 
Take it as a cryptic yet hilarious spin on a life or death game show, where you'll need quick hands and button-mashing capability to handle the hundreds of foes on the screen. What's funny now is the futuristic setting in 1999, but it provides a high-quality experience that doesn't give you a second to get bored.
Wrapping Up The SNES Hidden Gems
What did you think of our picks for the best SNES hidden gems? Did we miss your favorite? Is our list awful? Let us know in the comments below.