The Super Nintendo Entertainment System, or SNES, was one of the best gaming systems ever created. At its time of release and even today, people flock to purchase this unique piece of gaming history. During its peak, the SNES released so many games that had people in awe and having way too much fun in front of their TVs. 
While the SNES sure had a lot of great games, we've managed to narrow down our list to the top 25 best SNES games of all time. All released in the 90s, these classic games took the video game world by storm. 
25. Mega Man X2
The first of our best SNES games is Mega Man X2. Mega Man X2 was the predecessor to the ever-popular Mega Man (which we'll talk about later). This was a futuristic game where you played as Mega Man, a robot that only wants to save the day. With great graphics for the time and a plot that was easy to follow, Mega Man X2 became an almost instant hit for the SNES, making its way as one of the top 25 SNES games of all time.
24. Wario's Woods
Wario's Woods took a creative route on the everyday puzzle game. Instead of just aimlessly moving squares to the right sides of the screen, in Wario's Woods, you would literally be in Wario's Woods! 
The game took you out of the conventional game space you were used to and helped emerge you even more into the story that was being told. At the time, this was groundbreaking for puzzle games, and Wario's Woods rapidly gained popularity. 
23. Donkey Kong Country
When Donkey Kong Country was released, people really started to appreciate the SNES. The Donkey Kong franchise went on to become one of Nintendo's most popular, and Donkey Kong Country is no exception. 
When it was released, it was quite different than the original Donkey Kong, but in all the best ways. With brand-new graphics and Donkey Kong becoming the believable hero we always wanted, this game was easily one of the best SNES games of all time.
22. Mortal Kombat II
While the original Mortal Kombat deserves its own praise, Mortal Kombat II became a treasure in and of itself. 
Still today, this is the most-played one in the series, with its classic characters and signature locations still stealing the hearts of video gamers in 2020. With the addition of more detailed, graphic kills and elaborate moves, Mortal Kombat II just simply couldn't be beaten. (No pun intended.)
21. The Magical Quest Starring Mickey Mouse
In the 90s, and even today, it was hard to resist anything that had Mickey Mouse as the lead. This well-favored character led players on magical journeys in this story-telling game. 
The Magical Quest Starring Mickey Mouse was much more elaborate than other Mickey Mouse games the world had seen yet, and it only reassured players all that the SNES could handle. The combination of beautiful graphics and Mickey Mouse's fame helped this SNES game go on to be one of the best of all time.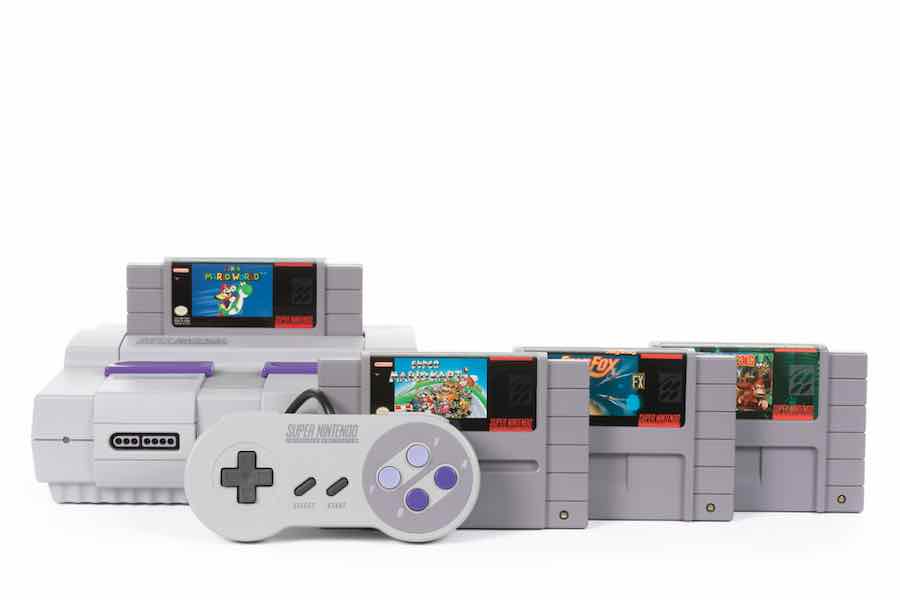 20. Tetris and Doctor Mario
Tetris mixed with Mario, how couldn't this be one of the best SNES games? A wonderful mix of a classic puzzle game and a well-loved character, Tetris and Doctor Mario was a SNES game that took players by surprise. 
With this game, you could play either Tetris or Doctor Mario, but there were also modes that allowed you to play both games at once. This created a super fun challenge for players that had never experienced a crossover like this one. 
19. ActRaiser
ActRaiser was a city-building action game that seemed as though it had originally been built for PC but moved over to SNES. 
However, this wasn't the case: ActRaiser was just a take on video games that had not yet been seen. With brilliantly advanced stories mixed with the classic side-scrolling motion, you had a game that was both brand-new and totally traditional. With this, popularity skyrocketed and ActRaiser easily became one of the best SNES games ever.
18. Super Punch-Out
Easily one of my favorites and one of the best SNES games of all time, Super Punch-Out was a perfect game to get out some digital aggression and have a whole lot of fun. Just as it sounds, this was a fighting game where you could punch, kick, and hit your opponents in practically any way the game would let you. 
Though your moves weren't nearly as elaborate as the ones in Mortal Kombat, the moves you made here were more than enough to provide serious entertainment throughout the 90s. 
17. Contra III: The Alien Wars
One of the greatest shooter games that the SNES ever saw, Contra III: The Alien Wars took the gaming industry by storm. 
The game had insane graphics, super tough bosses, and realistic noises that made you feel as if you were right there in this alien world. You'll probably see some aliens reminiscent of those in the Terminator movies, but this is easily overlooked once you start shooting. 
16. Super Mario All-Stars
Super Mario All-Stars came a bit later in the Super Mario game, being the third in the series. While the first two Super Mario games were undoubtedly popular, 
Nintendo seemed to take it all up a notch when they released Super Mario All-Stars. This all-star game seemed to encompass all of the games before it, creating a comprehensive ride that families everywhere loved–and still love today. 
15. Sim City
We're all familiar with the Sim games nowadays. This popular video game series originally got its start on the computer but was moved over to the SNES in the early 90s. 
This world-building, house-building, dog-walking game was all about living a whole different life as your Sim character. This appealed to every type of person, young or old, and Sim City eventually went on to become one of the best SNES games of all time.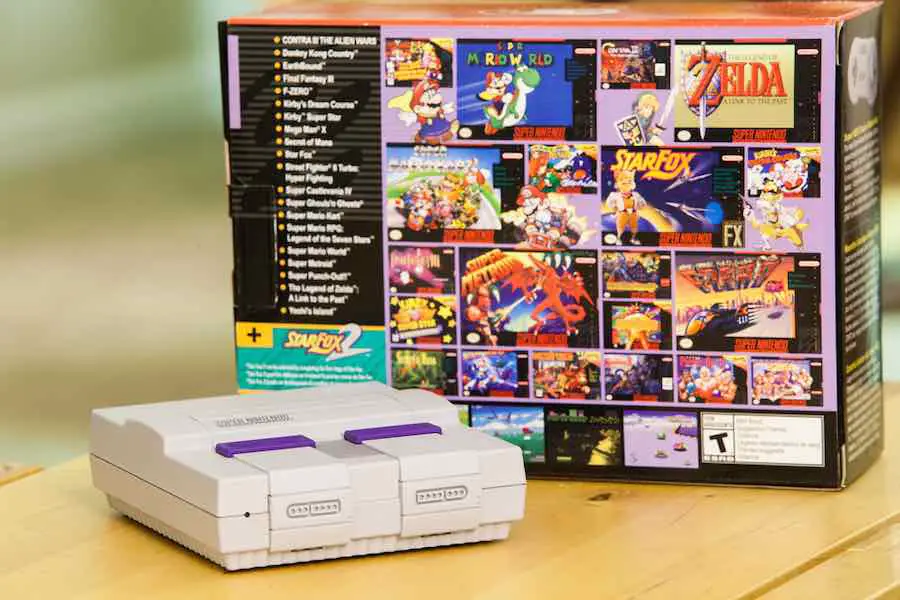 14. NBA Jam
Lace up your shoes and get to playing with the SNES' NBA Jam. As soon as it was released, people fell in love with the fact that they could feel like they were a part of the team, playing right there on the court. 
I personally received this game for my 11th birthday and had hours of fun with my friends.
While the graphics weren't overly realistic, no one cared: as long as you could dribble, block, and make a shot, NBA Jam was a total hit. Even today, you'll find versions of this game being played all around the world. It's longevity and excitement make it one of the best SNES games of all time.  
13. Final Fantasy IV
Though Final Fantasy was no newcomer to the world of Nintendo, Final Fantasy IV looked completely different than all that had come before it. 
This brand-new game boasted beautiful graphics, realistic character development, and missions that kept you entertained for days on end. No matter who you were, Final Fantasy IV was a game that kept you wanting to play your SNES all day long. That's a huge reason why it's one of the best of all time. 
12. Mega Man X
Mega Man was an extremely popular video game series, though its predecessor, Mega Man X, was even more of a hit. As we mentioned earlier, other versions of this game continued to gain popularity, though this one will always be one of the best. 
When released, Mega Man X took Mega Man to a whole look level, looking like a completely different game when plugged into the SNES. Even today, you can hear people talk about the success of this fast-paced adventure game. 
11. Secret of Mana
Secret of Mana is the sequel to the Final Fantasy series, and it is a role-playing game that requires skill and technique that other video games didn't seem to. 
This game was more intuitive than the rest, as if it could figure out your next move. This posed exciting for video game players who were looking for more of a difficult game to tackle. With its complicated strategy and incredible artistry, Secret of Mana was one of the best SNES games of all time. 
10. Star Fox
Though you might not be able to tell by the name, Star Fox was SNES game all about action-packed adventure and flying planes. 
Star Fox, the hero, is a furry friend flying along with friends helping to save the universe. This game had 3D graphics which were still quite unheard of at the time. For the SNES, Star Fox was an almost instant hit. 
9. Super Street Fighter II Turbo
Not just one of the best SNES games, but rather one of the best games ever made in my mind. While its name is quite a handful, so was the game. Super Street Fighter II Turbo is an action-packed fighting game where you could perfect your jabs and kicks effortlessly. 
This game was really the catalyst for so many other fighting games going forward, showing the video game world that beating up enemies virtually was a whole lot of fun. Not surprisingly, Super Street Fighter II Turbo was one of the SNES most exciting games of all time. 
8. Kirby Super Star
Your favorite pink blob was back in Kirby Super Star. This SNES game was actually a compilation game that allowed you to play all nine of the Kirby games in one easy spot. 
Having all these games at your fingertips was ground-breaking for video game players, not to mention so much fun. All of these small Kirby-filled adventures made for a perfect game for the family. 
7. Earthworm Jim
While you aren't always an earthworm in space, you definitely were when you played Earthworm Jim. This adventure game took you all throughout the galaxy as your worm-self wriggled through obstacles, hung on ropes, and avoided worm-eating dogs on every corner. Though a bit untraditional, this incredibly entertaining SNES game was easily one of the best of all time. 
6. Final Fantasy VI
Final Fantasy VI became one of the best Japanese role-playing games of all time, and fast. This version of the game allowed for more freedom through customization and decision-making choices than ever, helping players really feel like you were a part of the game. Even today, people still regard Final Fantasy VI incredibly highly, and this game is still well sought-after now. 
5. Chrono Trigger
Chrono Trigger is a world-famous RPG known for its elaborate storyline and gameplay. This game was pretty much flawlessly executed at the get-go, drawing customers in from every direction. In this game, you can actually have 13 different endings, so you couldn't just play one time through. 
4. Super Mario World 2: Yoshi's Island
A great sequel to one of the world's best games, Super Mario World 2: Yoshi's Island, allowed players to have a closer look into the world of one of their favorite characters. 
Here, you really get to know who Yoshi is, what he does, and all of his signature moves. Without this game, who knows if he ever would've become the popular character he is today. Regardless, Super Mario World 2 was a wonderful SNES game for all families. 
3. Super Mario World
Super Mario Bros 3 had just become one of the NES's top-selling games, and now Nintendo had the challenge of topping it. 
So, they created Super Mario World. A comprehensive world full of Mario characters, challenges, and places you've never seen before, this game literally took you to a whole new world. 
2. Super Mario Kart
Of course, we can't talk about the best SNES games of all time without talking about Super Mario Kart. The Mario franchise was already popular, but this racing version of the game took popularity to a whole new level. 
While other Super Mario games focused on navigating through worlds and fighting enemies, this one was all about racing against competitors and avoiding banana peels on the track. 
1. Legend of Zelda: A Link to the Past
Arguably, the best SNES game of all time is Legend of Zelda: A Link to the Past. While this wasn't the first Zelda game, this was the one to set precedence for the entire rest of the Zelda franchise. 
Without this game, the world of Zelda would look completely different. This game was made with beautiful graphics, detailed stories, and likable characters; there was no getting around that this classic game was one of the best we've ever gotten to experience.  
That's it for the best SNES games of all time. Did we miss one of your favorites? Let us know in the comments below.